Behind the Scenes Tour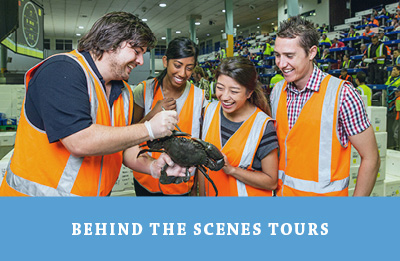 Duration: 2 Hours (approx.)
Location: Sydney, NSW
Product code: BTS
Sydney Fish
Market is the largest market of its kind in the southern hemisphere, and the third largest seafood market in terms of variety in the world. Approximately 2,700 crates (around 50-55 tonnes) of the freshest possible seafood is auctioned each day through the computerised Dutch auction system to approximately 150 buyers. An incredible variety of seafood is sourced from individual fishermen, co-operatives, fishing businesses, and aquaculture farms in Australia, New Zealand and the Asia-Pacific Region, with over 100 species available to buyers daily.
Have you ever wanted to know more about where your seafood comes from? What the Australian seafood industry does to ensure your seafood is sustainable? Or where Sydney's best restaurants go to get the freshest of the fresh?
Have all of these questions and more answered on Sydney Fish Market's Behind the Scenes Tour!
In accordance with current NSW Health guidelines, the following safety measures are encouraged for all tour participants when visiting Sydney Fish Market:
Fitted face masks while inside.

Social distancing (remaining 1.5m apart) throughout the tour.
Please note that due to occupational health and safety regulations, all visitors to the auction must wear flat, enclosed, non-slip, rubber-soled shoes (e.g. rubber-soled shoes with grip, safety boots or gumboots). Those who do not wear enclosed shoes will not be granted access to the auction floor.